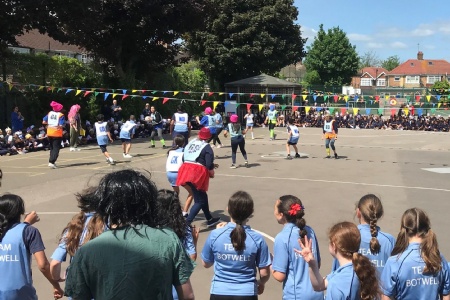 Pupils vs Staff at Netball Game
Published 27/05/22
BOTWELL HOUSE CATHOLIC PRIMARY SCHOOL CELEBRATES THE QUEEN'S PLATINUM JUBILEE DAY
The children of Botwell House School celebrated the Queen's Jubilee Day on Friday 27th May 2022.
There was a game of Netball, Pupils Vs Staff followed by a special Jubilee picnic lunch outside.
The children of course won 4 – 3 at Netball, but the fun and laughter was the main attraction.
Congratulations to Our Queen for her 70 years of service, from all at Botwell House School.
Please see the link to the Hillingdon Times
Staff v pupils netball and picnic crown Hayes school Jubilee celebrations | Hillingdon Times
Read More