Botwell House Catholic Primary School Choir continue their tradition even with the restrictions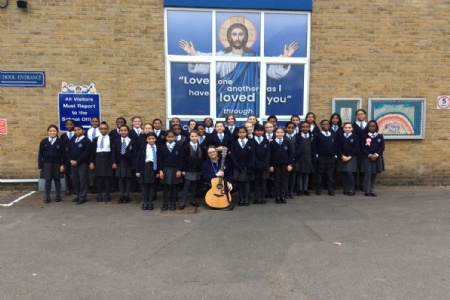 Despite the challenges brought by ongoing restrictions Botwell House Primary School Choir were determined to continue with one of their special Christmas traditions.
For many years the Botwell House Primary School has entertained residents of Aston House Nursing Home with Christmas Carols.
Restrictions prevented the children from performing live at the nursing home but through hard work to adapt the performance the children were able to deliver via a video recording link.
The residents at the nursing home commented how they loved the performance and how lovely the kids looked in their outfits. Staff at the Nursing home sent an email and video thanking the choir for all the effort that they have taken to make the residents feel so happy and pleasant. The residents enjoyed singing along with the carols and hope that soon the Botwell House Primary School Choir will be able to perform once again live at the Aston House Nursing Home and continue the traditions which have bought so much joy to them over the years.
https://www.hillingdontimes.co.uk/news/19887215.hayes-school-delivers-care-home-concert-video-link/