Book Week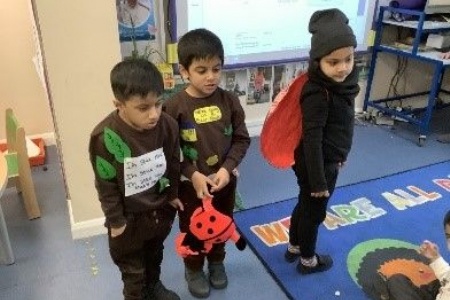 The children have had an amazing time celebrating Book Week. We started the week with an assembly from Mrs Slater, who talked to the children about being an author. She then visited many of the classes to lead them in a science fiction writing workshop.
This year, each class has been reading the same book, 'Here we are,' by Oliver Jeffers. The children have produced some fantastic work based on the book and have decorated their classroom doors using the book as a theme. Our doors have never looked so amazing!
Our staff took part in the Masked Reader which has been posted daily on ClassDojo. The children have loved trying to guess who they are.
Both children and staff have also taken part in the Extreme Reading Challenge. Well done to everyone who took part. There have been some amazing places that everyone found to read. Along with this, there has been a number of activities running throughout the week.
We have had a book cover competition, book Oscar's competition (where the children have pitched their favourite book, hoping that it will be chosen for their class), a no pens day, buddy reading, library visits and a book swap.
Yesterday, we enjoyed seeing the children in their World Book Day costumes and they had the chance to show their costumes to the rest of the school during a morning parade around the playground.