Botwell House Primary School welcomes Global Academy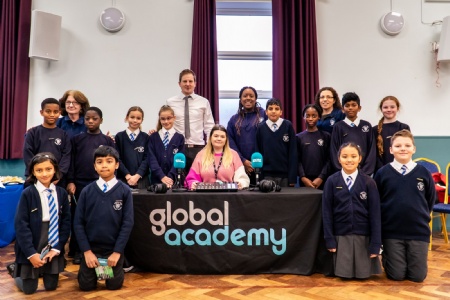 On Wednesday 24th November our Headteacher, Mr Oakley, welcomed Global Academy Principal Jonty Archibald and media staff to Botwell House Catholic Primary School for the start of an exciting new community partnership. This initiative offered the opportunity for pupils of Year 5 & Year 6 to learn more about the creative media world.
The media team from Global Academy facilitated a workshop. This included opportunities for pupils to learn how to use and work mixing decks and recording their own radio show segment on a mini pop up radio station. After participating in these fantastic workshops the pupils were able to have an insight into the world of Creative Media career pathways.
The pupils all had a wonderful morning which was made even more enjoyable/memorable when they received mementoes.