Free Online safety App
Free National Online Safety App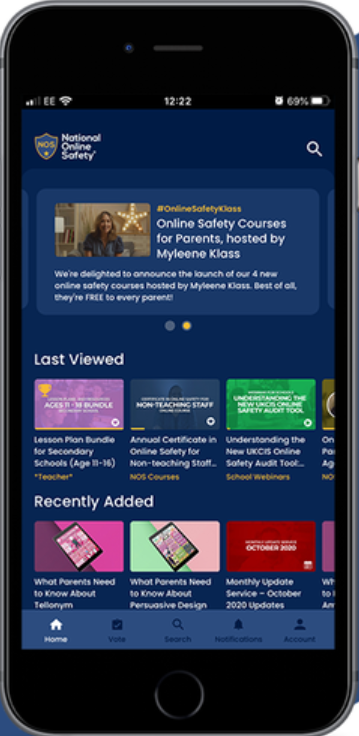 It's time to get #OnlineSafetySavvy.
Children are spending more time than ever online. As adults, we need to do everything we can to keep them safe in the digital world. But with new apps, games and platforms emerging every day, how can you stay in the know?
Say hello to the new National Online Safety mobile application. Created by experts, developed by us.
With all online safety knowledge available at your fingertips, the NOS app empowers parents and teachers to understand and address online safeguarding risks – any time, anywhere.
The world's most comprehensive online safety app, it's packed with insightful courses, explainer videos, webinars and guides on topics that will help you protect the kids you care about when they're online.
Whilst most apps have moderation tools, inappropriate content can still slip through the net.
Understand what's being shared or what seems to be 'trending' at the moment.
Make sure they are old enough to use the app and meet the recommended age-limit. Exposing your child to risk is a form of neglect, regardless of how much they want the app.
Make accounts private and set content filters and parental controls where possible.
Get use to how apps work, what content is available and what your child likes to watch.
Ensure they know that there is support and advice available to them if they need it.
Talk about what people might post online and why some posts could cause distress.
Always make sure that children know how to use the reporting tools on social media apps.
If a child sees distressing material online; listen to their concerns, empathise and offer reassurance.
If a child has been affected by someone they've seen online, seek support from your child's teacher who will liaise with the Designated Safeguarding Lead (Mr Oakley), or alternatively go to him directly.