Prayer & Liturgy
'Where two or three are gathered in my name, there am I among them.' Matthew 18:20
The 'Act of collective Worship' on a daily basis is a legal requirement in all schools and can happen in many ways. Taking part in daily prayer and liturgy helps build community cohesion by creating a consistent structure around our core values and symbols of Christianity... they are an important part of our Catholic school's distinctive character. Whether by mandate or not, we would provide
collective worship and pupil participation and engagement in prayer and liturgy are crucial to the spiritual life of our school and to pupil's moral and spiritual development. Hence, we have replaced the term Collective Worship with the phrase Prayer and Liturgy which is more fittingly describes its role in Botwell House Catholic Primary School.
Joining Christ in praise of the Eternal Father and united by the Holy Spirit in making intercession for the world through prayer and liturgy lies at the very heart of the daily life of Botwell House Catholic Primary School. The quality of the prayer and liturgy in our school not only gives honour to God but forms the spiritual and ethical life of pupils and staff alike.
In our school there is range of prayer and liturgy: classroom prayer, meditation, assemblies, devotions, special services for times of the school year, celebrations of the Mass and the Sacrament of Reconciliation. Each form of prayer and liturgy has its own character dependent on the circumstances, size and age of the children involved.
Our Prayer and Liturgy Coordinator
Our prayer and liturgy coordinator is Ms Avril Bradley. She supports every with their planning on leading on this central events be it the staff or indeed our children. She works closely with our Parish Priest Fr Paul Smyth to ensure that prayer and liturgy is well organised, led, monitored and evaluated providing relevant support and resources where required, as well as coaching and modelling good practice.
Liturgical Prayer
Liturgical prayer enables us to know and love Christ and to open the vision and imagination of our pupils to the wonder of living in God's world, and the responsibilities that follow from this. It plays a fundamental part of daily life in Catholic school with the ambition that this is mirrored in the home and independently which encompasses the 'domestic church'.
In the classrooms: - Although it takes place in a variety of ways, this is often led primarily by the pupils, particularly in key stage 2. Following a whole school focus on the Lord's prayer, children across the school have all devised their own prayers based upon the prayer that the Lord himself directed us to say. As a result of this whole school drive, the children's 'Our Father's' are progressively more complex in construct and reflective as the children progress through the school.
School assemblies: - Every Monday, based on the previous day's Word's of God, the school comes together to celebrate the Paschal Mystery (being the journey of Christ through his birth, life, suffering, death, resurrection and ascension) - God's plan for our salvation. We link the Gospel to our virtues and enable the children and staff to relate this to everyday life as we endeavour to follow C.H.R.I.S.T. By gathering together we can thank God for all He has bestowed upon us that week.
Towards the end of the week we come together again as a community to be thankful for all our endeavours throughout the week. We look at the progress of individuals as well as the collective in our Houses (being Matthew, Mark, Luke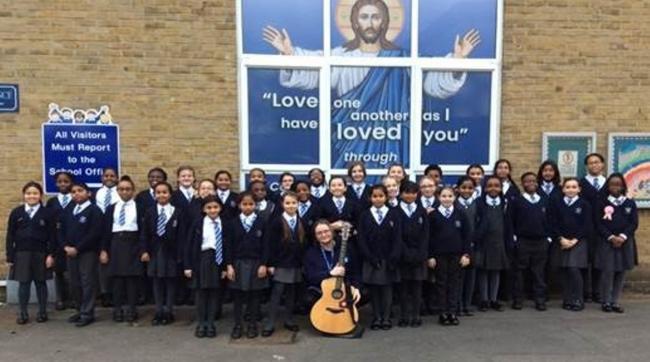 & John). We celebrate particularly the efforts of the children that have been following C.H.R.I.S.T well and recognise this with a certificate (above).
Hymn Practice
Music is and always has been a key element of prayer it binds us together with Christ in one voice and belongs to all who are present... it also helps us all remember more! It is also a wonderful way to spread the God's word. Here's a lovely example (click here).
Liturgies
Throughout the year, to mark important events in the Church's liturgical calendar, we hold special liturgies in our wonderful church that we are graced to have next door.
Carol Service
Although it is in a slightly different format due to COVID, we continue with our mantra throughout the Pandemic that we are not doing less for our community; we're just doing it differently. Please see below a recording of our most recent one for your enjoyment.